Warning: This blog is not safe for people who don't like delicious food that may look like vomit.
Yes, I know. You are tired of hearing about the magic of Daiya vegan cheese. Unless you are vegan yourself, in that case you might be singing Daiya's praises along with me.
So my latest attempt, on
Jess
' suggestion was lasagna. Usually lasagna has beef and ricotta cheese and stuff (mmmm ricotta, I miss you.) No vegan ricotta out there that I know of, and I'm not really interested in an almond tofu mixture, so I improvised. I used the following:
Filling:
1/2 lb of italian Daiya, divided
1 package of tofutti Sour Supreme or another vegan sour cream
1 package of tofutti Better than Cream Cheese
1 cup of frozen spinach, prepared
Basil
Garlic
1/4 c margarine
1 jar tomato sauce (i used a basil marinara)
no bake lasagna noodles
Save 1/2 of the Daiya and mix the rest of the ingredients. I used my stand mixer for this, until it was all creamed together.
I then layered the sauce, noodles, mix, and the rest of the daiya. Bake according to your pasta's instructions.
Um. It was interesting results.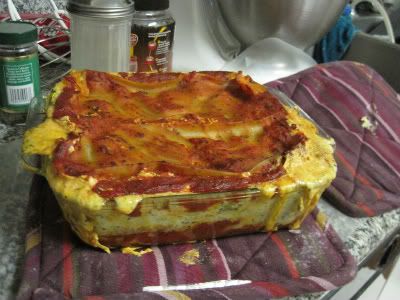 I probably should have had more layers. Was it pretty? No. Not really. That dinner was just a bowl of delicious cheese mixture with intermittent noodle pieces throughout.
The cheese was really goooooood though. SO I decided to try again, just with cooked noodles. So next time around, I made the mix, I cooked a pound of noodles (I think they were fuscilli noodles) and I mixed the drained noodles, cheese and tomato sauce. I topped it off with sprinkled daiya and baked at 350 for 30 minutes.
The results:
Hot vegan cheesy pasta deliciousness.
So that's it for this blog. Hopefully my melted over lasagna didn't make you vomit.
Stay tuned for upcoming special features:A Vegan Thanksgiving and Eating through Las Vegas with special guests,
Jess
and
Adam
! They're not vegan so there should be meaty food porn as well.