Oh mac and cheese,
I love you so,
although with ease
you make my belly grow.
My poetry skills are a bit rusty.
One of my lactose intolerance casualties is macaroni and cheese. I love this stuff. It used to be in my regular dinner rotation (which wasn't much a year ago, and still isn't huge now), so having to give it up was a bit of a blow. I mean, I wasn't fancy with it, it was normal kraft shells and cheese, usually mixed with broccoli or some potatoes to make it a bit heartier. It's a total comfort food though, and even better, a cheap one. I mean, sure you can do the whole mac and cheese with real cheese and melted butter and all that and bake it in the oven, but I don't have that much time after work, and sometimes I'd rather have the processed stuff.
Vegan mac and cheese does exist, but it can be kind of hit and miss. I've tried 3 different mac and cheese recipes from 3 different locations and they've all varied.
Mother's Market has a mac and cheese in their food bar. I think their main "cheese replacement" ingredient is almonds and maybe nutritional yeast flakes. For the record, nutritional yeast flakes are pretty common in fancy vegan recipes, especially as a cheese replacer, but I've never tried it. Heard they're a yummy seasoning though. Anyway, not a big fan of this mac and cheese. Not sure why, but the time I had it, I added some
bacon salt
to make it better. It just wasn't cheesy. Maybe it was because it was reheated. Dunno.
When I went to San Francisco, I hit up a fabulous vegan cafe called
Herbivore
. My sister recommended it, and I am so glad I went. I had a deeeelicious mac and cheese plate. It was so yummy, look!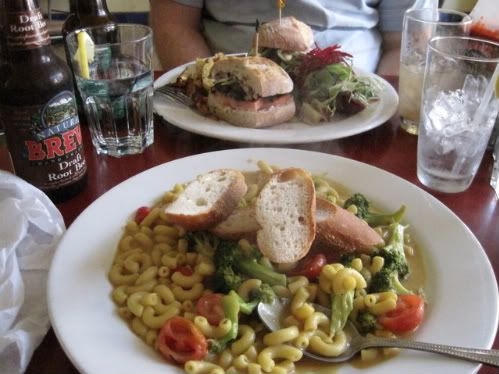 Just beautiful. They even did broccoli, like I used to do, except they weren't lazy like me and didn't do Kraft shells and cheese. If you look behind my plate, you will see husband's portobello mushroom sandwich (and his belly) and my root beer. I've become a root beer fan. This picture makes me sad that Herbivore is 6 1/2 hours away by car.
Lastly, we have homemade mac and cheese. I've made it twice at home using
this recipe from vegweb
. It's pretty easy and makes for some yummy cheddar-y results. If you try this recipe, make sure you follow the sauce directions: heat soymilk first, then add cheese. Last time, I forgot and dumped everything in the saucepan. It was still pretty good, it just changes the texture a bit. I usually add margarine too, because I'm a fatty like that.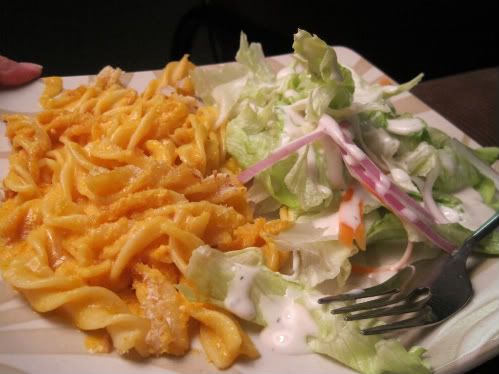 You will notice breadcrumbs on my mac and cheese. I had a french baguette that I was saving to make breadcrumbs and I FINALLY did it for this dish. Why you ask? Store bought breadcrumbs are not vegan. Did it taste better with the crumbs? Eh, about the same. Did it make it look all fancylike? Yup. That would also be a fancy salad on my plate, with the red onion and carrots and vegan creamy garlic dressing. What can I say, I'm easily impressed.